We're only two weeks into the New Year and my head is a-spinning with all the new intentions, thoughts, ideas, actions and plans I have begun.
Each new day is a New Beginning for me as I invent this new chapter of my life. I am learning that it is never too late to do what you want or learn what you need to. While on Pinterest one day, I came across a picture of this lady who is my new inspiration and hero.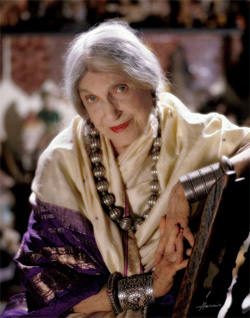 Her name is Beatrice Wood and she was an artist and a writer who lived to be 105. What I was attracted to was her spirit. She claimed her most productive years were the last twenty five of her life...which means from the age of 80 to 105! Wow!
When asked what the secret of her long life, she said, "

art books, chocolates and young men". She was my kind of lady.
"Do be true to yourself, whether it's bad doesn't matter. The important thing - you have to copy while you're studying. And culture is - each of us - is like one pearl added to another to make a chain. We each contribute to the other. And that's all right. But once you're on your own, do that which comes from within. And I feel this very strongly."
How reassuring it is to read and realize, while in your own learning stage, that even the masters "copied" each other. That is why so many of us are taking these AMAZING online classes from other artists we admire. Before last fall, I did not even realize they existed, this whole world of beautifully orchestrated do-at-your-own-pace classes and reasonably priced to boot.
I am currently enrolled in two classes. One of them is a 5 week course by Mindy Lacefield, who has a whimsical style of painting that I admire. I am learning to get away from realistic drawings and paint little urchins like these. (just for a change)
Flower Girl with Attitude
Girl with the Cool Socks
I love to watch Mindy at work. She has a calming teaching style that invites you in and inspires you to get busy. I have been a fan of her art work for a few months now. Here is an example of her work.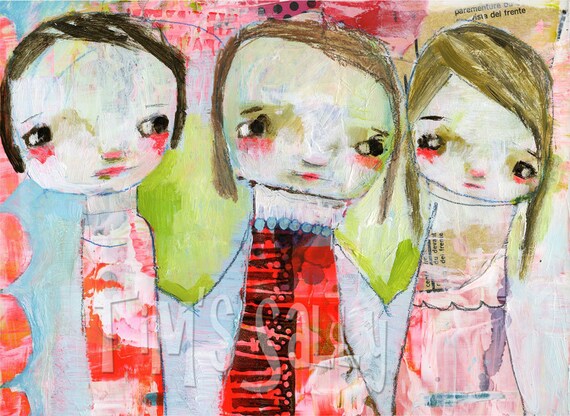 So cute... I love her use of greens and blues in the faces.
My other class is a year-long class called Life Book 2013. organized by Australian artist Tamara LaPorte, this class has many guest artists who teach lessons throughout the year. The lessons are all done as videos with PDFs to follow. By the end of the year, we participants will have a couple dozen finished journal art pages that will be bound together in a book. I am already learning so much.
I'm not crazy about anything I've produced yet, but standby for some cool pages. I plan to redo them, until I get it right. I just watched a lesson by Christy Tomlinson, another mixed media artist I have admired. I cannot wait to get started making a page from that lesson

, soon to show up on this blog.
My hopes with these classes and with the art retreat I will be going to in February is to feel freer and in my own style. Just as writers suffer writers block, artists face the same issues with a blank canvas. I want that to be a thing of the past.
So...this is blog circle Thursday, where you can follow the links to other artist blogs who are all blogging on a common theme, this month "Beginnings". Make sure you connect to Chandra Merod at Juniper Goods HERE.
Thank you for visiting. Have some cooki

es and leave me a note. ;+)